Newsletters & Company News
Spring into Your Greenhouse
May 12th, 2010:
Our Sun Garden Feature Greenhouse is available painted Forest Green or Dark Brown in addition to White.
This greenhouse measures approximately 8' x 8' and is regularly priced at $3,547.00. It is offered at the sale price of $1,995.00 if painted White, and $2,495.00 if painted Dark Brown or Forest Green. For more info, visit
www.backyardgreenhouses.com
.
Tasks in the Greenhouse for the Month of May
May is when you might notice a shortage of space in your greenhouse. In the typical greenhouse, you've got trays and pots of bedding plants, vegetables and herbs, just to name a few. Now's the time to get those seedlings into a cold frame to harden them off before planting. Remember to provide your plants with air circulation.
For most greenhouse growers, this is the time of the year when you need to pay careful attention to your greenhouse becoming too warm. Your main task is to ensure that your greenhouse stays below 80 degrees F.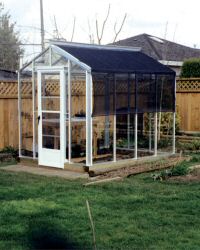 Shade cloth can help bring greenhouse temperatures down. It is mainly needed on the south side of your greenhouse. For info on our shade cloth visit
www.backyardgreenhouses.com
Don't switch off your heater just yet. You likely won't need it during the day, but you could still experience frost at night.
Hose down the greenhouse in the morning when the weather is sunny. This will benefit your plants in two ways. Firstly, it helps to cool down the inside temperature of the greenhouse. Secondly, it creates added humidity which your plants will enjoy.
Your plants will require daily attention, especially when it comes to watering.
The Greenhouse Kids Series of Books
Shelley Awad, the proprietor of Backyard Greenhouses is also a children's author. The first two books in the series have been released. The first mysterious adventure is Dan Delion's Secret, and the second is Ghost Walk. The Greenhouse Kids are named after flowers and plants, and also share the same traits. That's why Dan Delion is growing like a weed and he has spiky blonde hair. They meet a magical ladybug who teaches them life lessons. Ghost Walk is a continuation of Dan Delion's Secret. For more info, or to order the books, visit

www.greenhousekids.com

.
Happy Gardening,
Shelley Awad
Backyard Greenhouses
1-800-665-2124

Visit the News page here..