Commercial Greenhouse Kits
Commercial greenhouse quotes are welcomed. We can provide you with quotes on any sized commercial greenhouse kit, from the very small up to the very large. With over 8,000 greenhouse styles and models to choose from, including single or double glass greenhouse, 6mm twin wall polycarbonate greenhouses or our new improved five wall polycarbonate greenhouses, the possibilities are endless! Below are a few samples of commercial greenhouses. A brief description of each photo is directly underneath the photo.
Click here
to visit some of our commercial greenhouse kits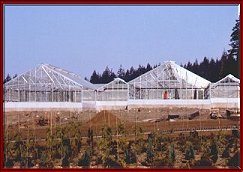 Greenhouse complex at UBC Botanical Gardens, Vancouver B.C.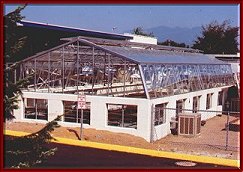 This slanted sidewall green house was designed for a technical institute.
The greenhouse features continuous roof venting along the ridge.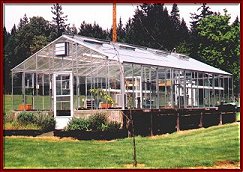 This free standing greenhouse measures 20' x 50' and is popular with both hobby and commercial greenhouse growers.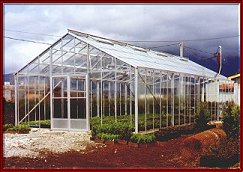 Greenhouse measuring 20' x 40' with single glass, roof venting and double doors.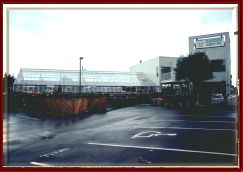 This greenhouse, built for a garden center, measures 20' x 70'. It features 6 mm laminated roof glass, and roof and side ventilation.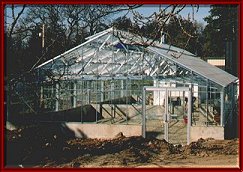 Traditional commercial greenhouse kit designed for an Institute. It measures 30' x 80' and features double store front doors.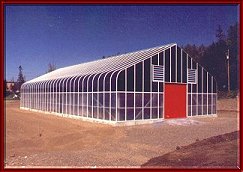 This research greenhouse was designed for the Fisheries Department. The aluminum greenhouse frame is glazed with a 6 mm bronze polycarbonate cover.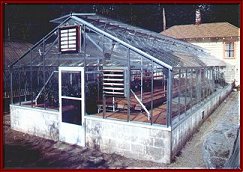 Continuous greenhouse roof venting, louvers and intake shutters were the specifications for this 20' x 40' all glass greenhouse. Free door drop is provided if the structure is being built up on a knee wall, as shown in the above photo.